TASkeno Promotions
At TASkeno venues there's always something new happening – See what's on at your favourite venue!
TASkeno Easter Golden Ticket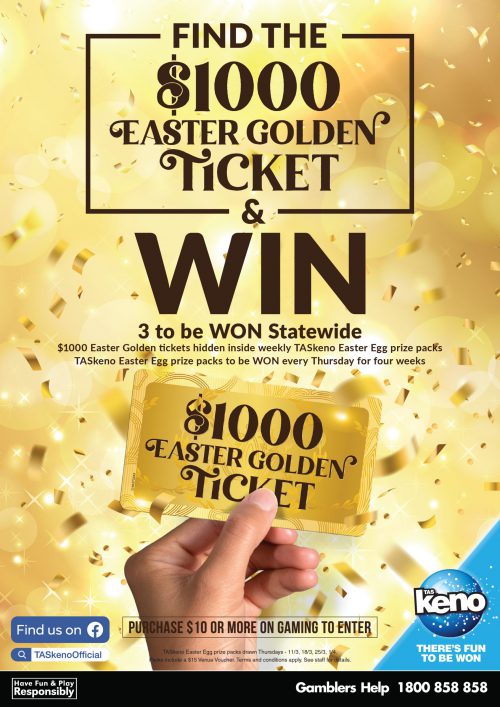 Find the $1000 Easter Golden Ticket & WIN!
$1000 Easter Golden tickets hidden inside weekly TASkeno Easter Egg Prize Packs – 3 to be WON Statewide!
TASkeno Easter Egg Prize Packs to be WON in venues every week for four weeks – 11/3, 18/3, 25/3, 1/4.
How to enter: Spend $10 or more on Gaming Coin or TASkeno
See in venue for more details
Participating venues:
All Year Round
Beauty Point Waterfront Hotel
Brighton Hotel
Brooker Inn
Central Hotel Hobart
Claremont Hotel
Club Hotel
Commercial Hotel Cygnet
Cygnet Hotel
Derwent Tavern
Doctor Syntax Hotel
Dover RSL
Elimatta Hotel
Elwick Hotel
Furners Hotel
Gateway Hotel
Geeveston RSL
George Town Motor Inn
Grand Hotel
Hamers Hotel
Heemskirk Hotel
Hobart Workers Club
Hotel Federal
Hotel Tasmania
Hotel Valern
Huntington Tavern
Huon Ex-Servicemen's and Women's Club
Interstate Hotel
Kermandie Hotel
Legana Tavern
Mackeys Royal Hotel
Midway Point Tavern
Molly Malones
Motor Yacht Club of Tasmania
New Norfolk Hotel
New Norfolk RSL
Newstead Hotel
Paddy Wagon
Park Tavern
Regatta Point Tavern
Risdon Brook Hotel
Shearwater Resort
Shoreline Hotel
St Mary's Hotel
Star & Garter Hotel
The Bush Inn
TRC Hotel
Valley Wine & Sports
Village Inn
Waterfront Hotel
TASkeno Easter 10kg Block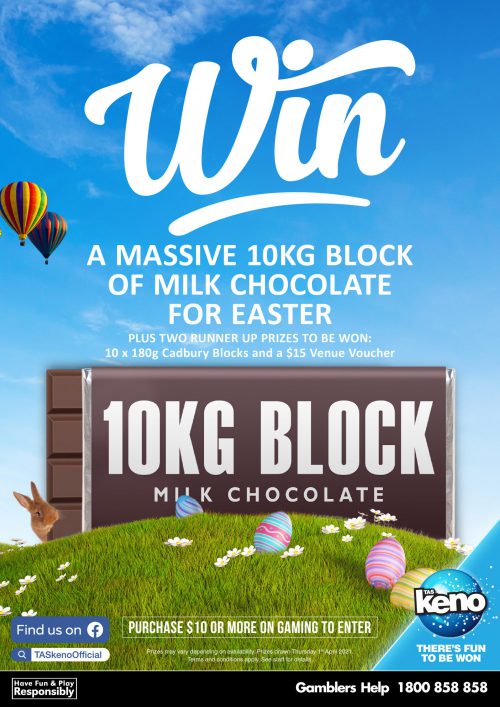 WIN a MASSIVE 10kg Chocolate Block!
Major Prize: 10kg Chocolate block
2 x Runner up Prizes: 10 x 180g Cadbury Blocks and $15 Venue Voucher
Prizes drawn Thursday 1st April 2021
How to enter: Spend $10 or more on Gaming Coin or TASkeno
See in venue for more details
Participating Venues:
Bayside Inn
Bolters Bar, Country Club Villas
Devonport Country Club
Foreshore Tavern
Glenorchy Football Club
Grays Hotel
Lords Hotel
Parers Hotel
Pembroke Hotel
Penguin Sports Club
Plough Inn
Primrose RSL
Regent Hotel
Retreat Hotel
Sheffield Hotel
Sheffield RSL
Smithton Club
Talbot Tavern
Tall Timbers
The Black Stallion
Kalis Group Easter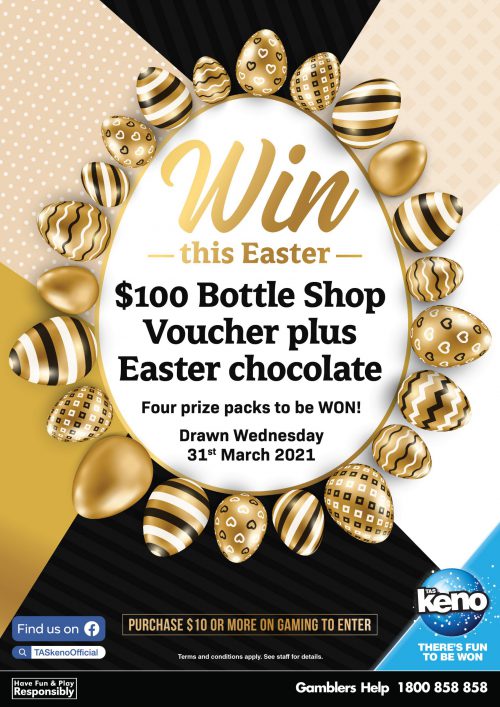 WIN this Easter!
Prize includes a $100 Bottle Shop Voucher plus Easter chocolate
Four prize packs to be WON! – drawn Wednesday 31st March 2021
To enter: Spend $10 or more on Gaming Coin or TASkeno
See in venue for more details
Participating Venues:
Beachfront Bicheno
Beltana Hotel
Black Buffalo
Cooleys Hotel
Kingston Hotel
Kings Meadows Hotel
Mornington Inn